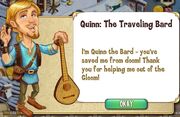 Quinn (aka Quinn the Bard, Quinn the Traveling Bard, or simply the Bard) is probably the name of the bearded dude who sort of looks like the actor from Robin Hood: Men in Tights.
With others
Edit
Traveling Bard 5/5 parts done
Chinese New Year 1/3 parts done
Magical Corn 1/5 parts done
Ad blocker interference detected!
Wikia is a free-to-use site that makes money from advertising. We have a modified experience for viewers using ad blockers

Wikia is not accessible if you've made further modifications. Remove the custom ad blocker rule(s) and the page will load as expected.