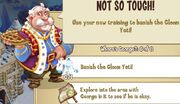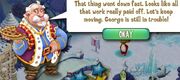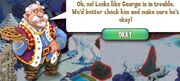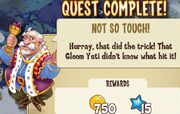 Not So Tough! is step 8/8 in the Where's George? series of quests. It has 2 requirements:
Banishing another Gloom Yeti (this time it's easier and only takes 6 damage)
Exploring where George is (requires 225 castle, 7 crystals, 40 000 coins)
Reward for completion is 750 coins and 15 experience.
Ad blocker interference detected!
Wikia is a free-to-use site that makes money from advertising. We have a modified experience for viewers using ad blockers

Wikia is not accessible if you've made further modifications. Remove the custom ad blocker rule(s) and the page will load as expected.