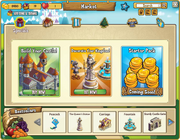 The market is where you can buy buildings, animals, clothes and much more. Everything in the market can be purchased for Coins, Reputation or Crowns. Some of the objects are locked at the begining but will be unlocked as you reach higher levels. The market is divided into different tabs, each one has it's own tabs:

For now there is only "posters" in this tab.



​


Ad blocker interference detected!
Wikia is a free-to-use site that makes money from advertising. We have a modified experience for viewers using ad blockers

Wikia is not accessible if you've made further modifications. Remove the custom ad blocker rule(s) and the page will load as expected.